Visit Link
Good News is the Ultimate Multi Niche Blog / Magazine WordPress theme built for anyone who would like to build a stunning and flexible blog, news, newspaper, magazine, publishing or review site.
With Good News you will be able to build your own layouts using Drag & Drop ready made widgets.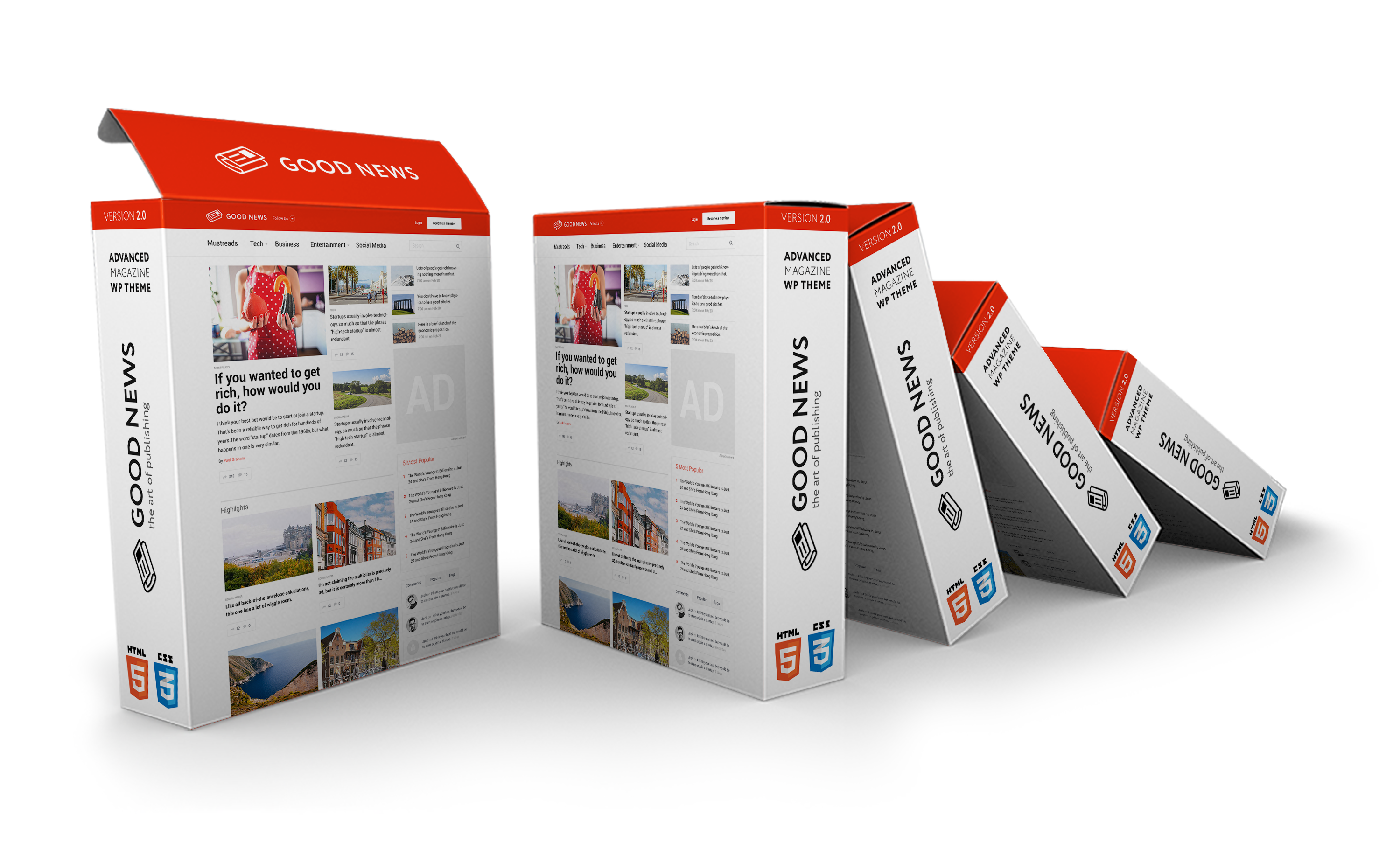 It also supports oEmbed which let's you embed content from different providers including videos from YouTube and Vimeo. It uses the best and clean SEO practices and is also flexible, simple and easy to use.
The theme also includes a full featured Ads Manager that supports responsive Google Ads and AdSense. Ads can easily be added using shortcodes, visual composer or widgets.
Latest Version 2.0.9.2 – 07.09.2016 – View Changelog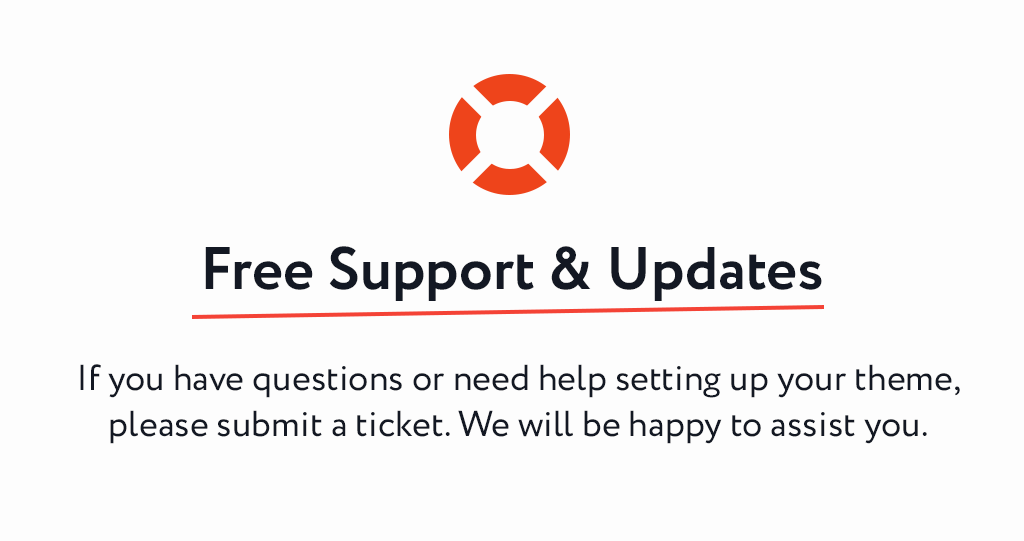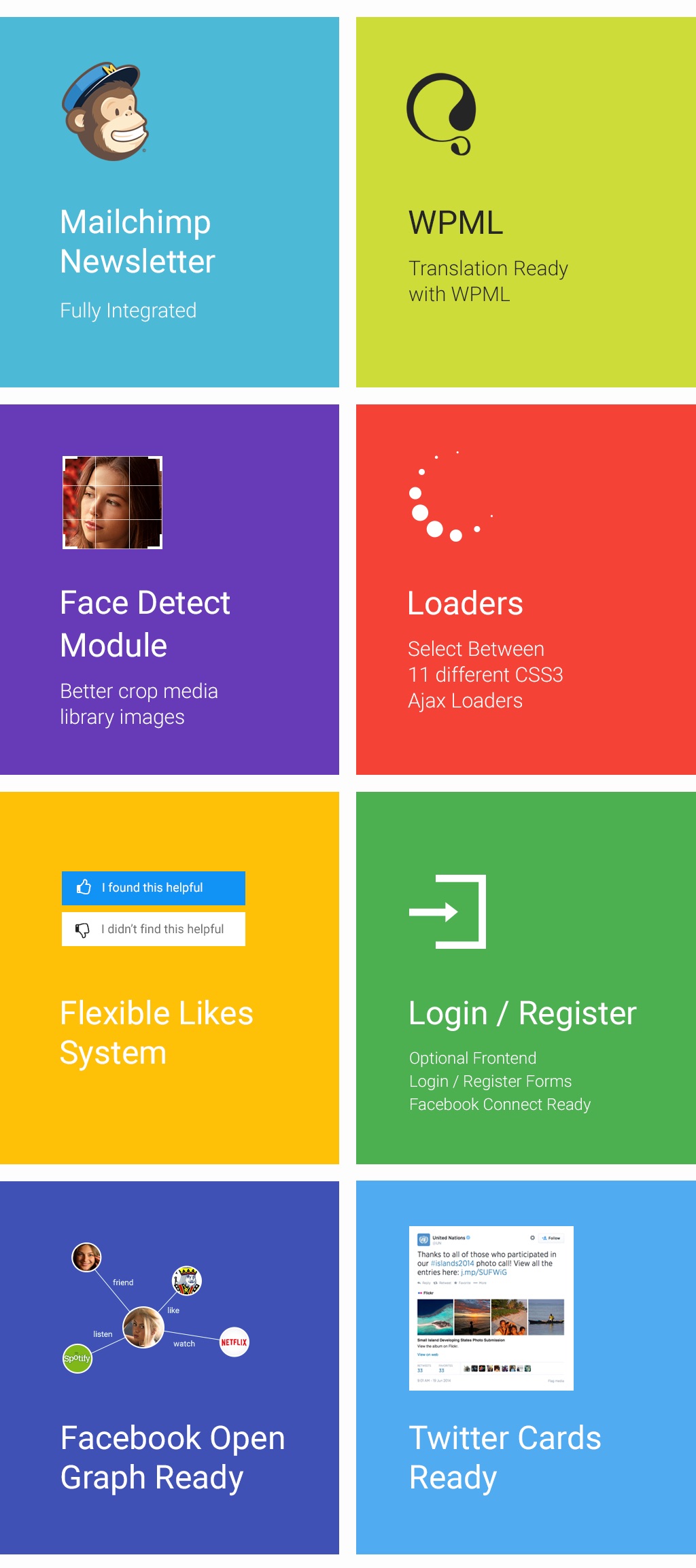 CUSTOMER REVIEWS

FEATURES
Clean, Simple And Minimalist design
Multi Level Push Menu (Left / Right).
Responsive Mobile Menu
Sticky Topbar / Main Menu
Image Backgrounds with Patterns & Overlays
Video Backgrounds with Patterns & Overlays
Parallax with Patterns & Overlays
Custom Title Headings with unlimited Fonts & Colors.
Nice Scroll & SmoothScroll Options
4 different paging systems including Infinite Scroll
3 different comments systems (Native + Disqus Comments + Facebook)
Facebook Connect / Register
Advanced Liking System
Advanced Page Options
Custom Post types – Videos & Photo Albums
Unlimited layouts with Visual Composer
Dynamically create sidebars and assign them to any page
Option to have different background images on each pages
Live Twitter Feed Widget
6 pre-defined blog templates: 1-2-3-4 columns & Small / Large Lists
Visual Composer included as a premium plugin (34$ value) including 8 custom widgets.
Revolution Slider included as a premium plugin (19$ value).
MailChimp Newsletter plugin included
Fully integrated with BuddyPress
UberMenu plugin Fully Supported
Contact 7 working contact forms
Google Fonts Library
Font-Awesome library
Integrated using HTML5 & CSS3 best practices
Built with the well known Foundation CSS Framework
Retina HD Ready & Responsive Design
Using SEO best practices
Rich Snippets, Schema & Microdata
RTL Support
.po & .mo translation files included
Easy 1-Click Demo Importer
WPML Ready
Fully Responsive
PSDs Included
Child Theme Included
Good documentation
NEWS & VIDEOS
Advanced News & Videos Widget
Endless Articles Option / Infinite Bidirectional Scroll
Filter By Categories
Multiple query types: (Most Recent, Most Viewed, Most Liked, Most Discussed, Custom Selection)
Multi layouts and lots of options
ADS MANAGER
Advertisement rotation system with a flexible logic of displaying advertisements.
Widgets & Visual Composer support
Responsive ads support
MAILCHIMP NEWSLETTER
Fully integrated MailChimp Newsletter form.
CREDITS
Note: Theme Images are not included. Placeholders will be placed when importing our demo.
UPDATES:
V.2.0.9.2 – 07.09.2016
Fixed bug with WP Maintenance plugin
Added option to add custom thumbnail placeholder for posts that do not have a featured image set.
Added an option within the theme panel under APIs / Accounts to set a Facebook APP Access Token required for Facebook Share counts to work properly by removing request limits
V.2.0.9.1 – 22.08.2016
Fixed an intermittent bug causing a php warning
V.2.0.9 – 20.08.2016
Fix Social Share Facebook counts due to Facebook API graph stats endpoint Deprecation
Wrapped all functions within lib/functions.php with "function_exists()" so they can easily be overridden within the child theme
Removed old Simple Ads Manager plugin (deprecated), Added support for the new Simple Ads Manager Pro (Free Version)
Updated ACF to v5.4.2
V.2.0.8 – 07.07.2016
Minor CSS Fixes
Fixed category color field not appearing on the edit category screen
Added hook to filter Advanced News Widget query arguments
Updated ACF to v5.3.9.2
Updated Visual Composer to v4.12
Updated Slider Revolution to v5.2.6
V.2.0.7.1 – 06.06.2016
Minor CSS Fixes
Added Thumbnail Size option to Post Gallery format when using the native wordpress gallery theme.
Better Customizer Viewing in boxed mode
Social Share Counts now combines both http and https urls stats
Updated Visual Composer to v4.11.2.2 (fixes a bug with autocomplete fields not able to remove items from the list)
Updated Slider Revolution to v5.2.5.3
V.2.0.7 – 02.05.2016
Nav Menu Walker: Better compatibility with other plugins
Centralize Extensions Code
Fixed Sticky Top Bar issue in Boxed Mode when previewed within the customizer
Added a hook to filter mega menu thumbnail size within the child theme
V.2.0.6.4 – 16.04.2016
Fixed Issue with Sticky Sidebar causing Google Adsense ads to load twice
Fixed Bug with the Extensions Upgrade System causing some extensions not to update / install properly
V.2.0.6.3 – 14.04.2016
Fixed Bug with the Extensions Upgrade System causing extensions not to update / install properly
V.2.0.6.2 – 13.04.2016
Replaced deprecated function get_currentuserinfo with wp_get_current_user for WP 4.5
V.2.0.6.1 – 13.04.2016
Fixed JS Bug causing parallax images not to fade in
Minor CSS Fixes
Updated Slider Revolution to 5.2.4.1
Updated Visual Composer to 4.11.2
V.2.0.6 – 31.03.2016
Fixed issue with taxonomies not inheriting category settings
Fix Visual Composer conflict with Templatera not allowing inserting user saved templates
WooCommerce: Equalized shop page products heights on window resize.
WooCommerce: Added number of columns options for the shop page grid within the theme panel.
WooCommerce: Added single product global sidebar option within the theme panel
Single Post: If show post categories option is active, All categories linked to the actual post will now be shown including custom taxonomies.
Single Post: Added option to show post formats below the post. They will be appended to post categories.
Theme Panel: Added text transform option to typography fields
Added a language .pot template file
V.2.0.5 – 09.03.2016
Minor CSS fixes
Fixed issue with WooCommerce Product Hover Animation.
Fixed WooCommerce Lost Password not sending an email or show any confirmation message
Fixed Mobile Menu Search Box Show / Hide Option
Fixed Mobile Menu missing translation for the string Back
Fixed Mobile Menu Parent Menus not clickable. If a parent menu has a link, it will now appear within the submenu below the Back button.
Fixed issue with demo import not importing widgets when this import type is selected: (Options, Widgets and Sliders Only)
News Widget: Reordered posts randomly for the Related To Post / Related To Category query type
Added 2 widget zones options Below and Above the Top Bar
Added color options for the TopBar Inline Social Icons
Added option to add Facebook Likes and Google Plus within the TopBar Social Networks in Inline Mode
Updated Language Files
Updated WooCommerce Templates
Updated Slider Revolution to 5.2.1
V.2.0.4 – 22.02.2016
Updated Revolution Sliders zip files within the theme package and fixed the slider import issue.
Added WhatsApp social share button. If activated, appears on touch devices only.
Added the capability of overriding any theme included php file by copying it to the child theme with the same path structure. For modules and widgets directories like (advanced-news) the whole folder has to be copied to avoid errors.
V.2.0.3.2 – 17.02.2016
Fixed minor issue with News Widget Query. Return all post formats if a category is selected
Fixed issue with logo being reset by it self
Activated Weekly google fonts update for the typography options within the theme panel. Google Fonts API Key must be set within the APIs section
V.2.0.3.1 – 08.02.2016
Fixed Single Post Featured Image caption output PHP Error
V.2.0.3 – 07.02.2016
Minor CSS Fixes
Fixed issue with WooCommerce quantity input Minus / Plus buttons not working in some cases
Replaced the functions xt_trim_words and xt_trim_text with the native wordpress function wp_trim_words
Visual Composer templates can now be overridden within the child theme by copying the vc_templates folder from the parent to the child theme.
Applied Sticky Sidebar effect to WooCommerce Checkout Order Detail Box
Added new demo import features. Now you can import demo options, widgets & sliders only without flushing existing posts
Added an option to show the featured image title, caption and description over the image within the single post page
Added Chat Post Format Support. More Info
Replaced WordPress Editor Quotes with a more advanced one. Block quotes can now be easily added / edited. 4 Different Styles.
Added Uppercase, Lowercase, Sentence Case & Title Case buttons to WordPress Editor.
V.2.0.2 – 03.02.2016
Minor CSS Fixes
Remove unwanted notices non admin users
Fixed News Widget query conflict when category and post format filters are both used at the same time.
Set Revolution Slider as Theme and disable update notices
Moved single post page links above the likes buttons
Added max logo height option to the TopBar / MainMenu Logo
Added a thumbnail size option for the gallery post format native theme
Added a filter xt_post_types_as_post to activate sidebar & post options to any custom post type. More Info
Updated Woocommerce templates to support v2.5.1
Updated language files
V.2.0.1 – 13.01.2016
Removed boolval() function for php 5.3+ compatibility
Disabled sticky sidebar on mobile
Disabled Visual Composer Updater which was conflicting with the theme Extensions Updater
Removed plugin update notices for users without install_plugins capability
Removed prepackaged plugins from the theme and stored them ray bans ale on our server. Now premium plugins will be updated by us and a notification will appear within your WordPress dashboard to update the plugins whenever there available without having to wait for a theme update. By doing so, we also reduced the theme zip file to 6MB.
Exported Revolution Sliders used in NewsFlash demo to the zip package
V.2.0.0- 10.01.2016
Fixed post image / captions alignement
Fixed News Widget Orbit Slider options not applying correctly
Fixed News Widget Orbit Slider Arrows not showing on Firefox
Main Menu: Apply selected menu item styles to ancestor item
Enhance retina logo interchange
Good News V2 – 4 New Demos
Added color column to category management
Category colors now inherit from top parent category
Update FontAwesome to v4.5.0
Updated Slider Revolution to 5.1.6
V.1.2.0- 24.12.2015
News Widget: Fixed ajax pagination bug when offset is not set
Improve Demo Import
Added post category individual colours
Added single post sidebar override options to video / gallery formats
Updated Visual Composer to 4.9.1
Updated Slider Revolution to 5.1.5
V.1.1.9 – 11.12.2015
Fixed CSS Bug with Facebook Connect button on Safari
Fixed footer Social Networks original colors option
Social Share: Removed Twitter Count (Twitter no longer support counts)
Fixed bug The backup of this post in your browser is different from the version below
Disable SmoothScroll for trackpads and magic mouses
Improve Facebook Open Graph / Twitter Cards Metas
Added Page Option to remove main container Top Padding Only & Bottom Padding Only
Added new Featured Media Positions Above Title Fullwidth & Below Excerpt Fullwidth
Single Post Featured Image: Added Faded Image option to Below Excerpt Fullwidth position
Single Post Featured Image: Added Background Vertical Position option
Added Margin Options to Visual Composer Button Widget
Updated Face Detect Plugin to v1.0.1
Updated Visual Composer to 4.9
Updated Slider Revolution to 5.1.4
Updated XT Optimum Speed to 1.0.4
V.1.1.8.1 – 26.11.2015
Fix minimum header height when title bar is activated
Fix Font Awesome selection within the theme panel
Improved Ajax Pagination
Improved Login / Register Light Box
Recalculate Parallax Position on Window Resize & After Ajax Requests
Added 11 New CSS3 Spinners / Loaders options that can replace the default one.
V.1.1.8 – 25.11.2015
Major CSS Fixes. Make sure to save theme panel options after the update
Remove visual composer shortcodes showing within excerpts
Localized the "Back" string within the mobile menu
Visual Composer: Fixed Video Embed Display
Fixed backend css conflict with visual composer charts
Fix Bug with MailChimp not showing within the Visual Composer elements
Fixed bug with Recent Comments Widget count option not applying
Fixed Twitter Bug (Show / Hide) date & avatar not applying.
Fixed bug with Archive posts not appearing if not featured images is set
Social Share: Fixed Twitter Bug if share count is enabled and no count returned
Fix Plugins Update Count
Demo Import: Improved
Mega Menu: Improved Animation
SubFooter: Improved Layout
Auto Reduce heading font size on mobile.
Sticky Sidebar: Improved calculations by loading it once the page is completely loaded
Theme Panel: New Option added within the Performance Settings: Load all sections at once (On / Off)
Added global border radius option within the Look & Feel settings
Added new actions / hooks: xt_before_header, xt_after_header, xt_before_footer, xt_after_footer
Single Post: Added new Featured Media Positions (Within Content)
Category Page: Added an optional Widget Area on top of the category. Can be activated within the Archives Section.
News Widget: Added new "Related To Category" query to be used within a category Widget Area only.
Archives: Added Archive Title / Excerpt Font Weight Option
SubFooter: Added Nav Menu option to the SubFooter
SubFooter: Added Positioning Options to Nav Menu / Copyright Text within the SubFooter
Look & Feel: Added Global Border Color option
Look & Feel: Added Visual Composer Row Options
Social Share: Added an option to show the share box Above or both Above & Below the content
Social Share: Added the option to show the first 2 to 6 social items and hide the others
Header: Added Cleaner Search / Menu Toggle Icons
Social Media: Added custom color option to the Follow Us dropdown items.
Updated translation files
Updated WooCommerce Templates
Updated BuddyPress CSS to support the new profile cover feature
Updated Visual Composer to v4.8.1
Updated Slider Revolution to v5.1.1
Update cheap oakley sunglasses XT Galleria Plugin to v1.0.6
Updated ACF Pro to v5.3.2.2
V.1.1.7.2 – 04.11.2015
Minor CSS Fixes
MicroData Schema Fixes
Fixed Slider Revolution Key Burns CSS
Fixed backend css conflict with visual composer charts
Enhanced prepackaged plugins installation (New Extensions Section)
Removed the Face Detect module and packaged it as a plugin / extension
Updated ACF Pro to v5.3.1
Updated XT MailChimp to v3.2.6
V.1.1.7.1 – 23.10.2015
V.1.1.7 – 22.10.2015
Minor CSS Fixes
Fixed minor issue with google fonts caching
Fixed comments order based on WordPress discussions settings
Fixed thumbnail overlay icon position on IE
Added IE9 support by splitting main css file as it cannot handle large css files
Fixed WooCommerce mini cart ajax timeout bug on IE
Fixed scroll to top issue on page reload
Mega Menu : Set the correct thumbnail size based on the number of columns
Added delay to Mega Menu dropdown on hover using hover intent
Added Multiple Animations / Speed Options to the Mega Menu
Added a Centered Main Menu Option
Added a News Look & Feel section within the theme panel with many options
Added a Face Detect Module to better crop media library images
Added new display options for the Social Networks within the Top Bar (Dropdown List / Dropdown Grid / Inline)
Updated translations files
Updated Revolution Slider to v5.1
V.1.1.6.2 – 05.10.2015
Fixed issue with Visual Composer Layouts
Fixed Enable Front-end Registration switch option
Hide social share count if has 0 shares
V.1.1.6.1 – 05.10.2015
Updated Visual Composer to v4.7.4 Important XSS security vulnerability Patch
V.1.1.6 – 02.10.2015
Fixed social share output within the endless articles template
Fixed video width to videos embedded within the post content
Fixed previous / next post nav if post thumbnail is not available
Fixed issue with Woocommerce review form / reviews list
Fixed Main Menu font size on medium screens
Fixed Twitter Widget show_avatar & show_date options being always enabled
Fixed timeout issue with the demo import
Minor CSS fixes
Reduced mobile menu toggle on very small screens
HTML Escaping / Sanitization : Replace all () / e_() with esc_html() / esc_html_e()
Minify all Assets. Load unminified assets only if the SCRIPT_DEBUG constant is set to true
Enhanced infinite scroll performance
Added option to change main menu dropdown arrows
Added option to set the number of posts to show within the category mega menu
Added gutter option to the grid view within the News Widget
Added padding option to meta container over thumbnail within the News Widget
Added Medium Text Size option to Text Widget
Added option to force original social icons colors within the Social Networks widget / shortcode. Useful for the footer section
Added a filter xt_archive_thumb_size to override thumb sizes within archives based on the template used
Allow quote post format
Show active menu item within the mobile menu:
Added a link label field to post link formats
Added parallax option to single post featured image when set as Behind Title
Added global option to change main container padding within the look & feel section
Added Facebook OG Meta Tags without the need of a plugin. Options needs to be set within APIs / Accounts)
Updated translation files
Updated Woocommerce template files
Updated Visual Composer Plugin to v4.7.3
Updated Revolution Slider Plugin to v5.0.9
V.1.1.5 – 03.09.2015
Fixed issue with sidebar below title option not showing
Fixed infinite scroll bug within the WooCommerce shop page
Fixed WooCommerce mini cart ajax update intermittent bug
Fixed demo import timeout caused by the BuddyPress plugin.
Fixed post excerpt length option no applying in archives and single posts
Fixed FontAwesome conflict with an older version in the backend
Fixed translation issue caused by WooCommerce & BuddyPress theme templates not using the theme text domain
Replaced xt_time_elapsed() function with native human_time_diff() WordPress function
Admin theme panel red color will now inherit the primary color option
Added visual composer custom templates tab with layouts specific to the theme
Force Facebook comments form to be full width
Added the ability to place the main menu over the content (useful for menu over backgrounds / sliders / parallax) with a semi transparent background. (Per Page option)
Added global options to set a margin top / bottom to sticky sidebars
Added new options to the Ads Widget (Alignment, Before Ad HTML, After ad HTML)
Updated translation files
Updated ACF PRO to v5.3.0
Updated Envato Toolkit Plugin to v1.7.3
Updated Visual Composer Plugin to v4.7
Updated Revolution Slider Plugin to v5.0.6
V.1.1.4.3 – 26.08.2015
Fixed Facebook connect script to load using WordPress locale language settings
Added option to enable / disable thumbnail fade in on scroll down
Added Look & Feel / Typography Options for the single post page
Added a "24 hours ago" date query option within the News Widget
Added a "Time Ago" human-readable time difference option for post dates within the Archives, Single Posts, Post Templates and the News widget
V.1.1.4.2 – 24.08.2015
Fixed timeout issue when importing demo content while Buddypress plugin is activated
News Widget: Ignore sticky posts if custom query is selected
News Widget: Fix offsets when custom query is selected
News Widget: Fixed minor bug with post format selection
V.1.1.4.1 – 22.08.2015
Fixed issue with categories when shown over thumbnails
Updated Font Awesome to v4.4.0
V.1.1.4 – 21.08.2015
Fixed error "There was a problem with your action. Please try again or reload the page." when saving the theme panel caused by the php max_input_vars limit. Bypassed the limitation by using a custom function
Fixed bug with visual composer button widget options
Fixed Sticky Top Bar / Main Menu distance option not applying properly
Fixed issue with the News Widget Tabs not showing properly after the latest ACF update
Fixed issue with comments replies within on the backend side
Improve Parallax Performance
Improve Demo Import Speed
Added option to enable Sticky Top Bar / Main Menu on Scroll Up only
Added archive / post template option: Max number of categories to show
Added option to show thumbnail placeholders if oakley outlet no featured image available
Updated MailChimp Plugin to v3.2.5
Updated XT Galleria Plugin to v1.0.4
Updated XT Optimum Speed Plugin to v1.0.2
Updated Revolution Slider Plugin to v5.0.4.1
V.1.1.3 – 14.08.2015
Minor Fixes
Fixed Mega Menu query to show all category & subcategory posts
Fixed error with SEO Plugin sitemaps
Theme Panel / Thumbnail Settings – Allow overlay icon removal
News Widget / Post Template – Filter query by standard posts along with other post formats in the same query
Added a Font Size, Line Height & Margin Bottom options to Post Titles & Excerpts within the theme panel archives settings
Added Twitter Settings section within the theme panel under APIs / Accounts – Twitter API Keys are now needed for the Twitter Widget to work
Updated Revolution slider to v5.0.4 Major Update – Might have to reconfigure your existing sliders
Updated WooCommerce templates
V.1.1.2 – 02.08.2015
Fixed weird bug with TinyMce JS not loading in the backend
Fixed issue with footer links color
Fixed sidebar issue with posts having multiple pages
Fixed issue with visual composer ads widget
Fixed issues with VC News Widget default values
Social Share module now hockey jerseys loads via Ajax for a faster single post page speed
Formatted social share counts to (k / m) for thousands and millions
Added Meta Options to the list view within the News Widget
Added Meta Options to the post template & category settings
Added 3 new social share providers (scoop.it, vk.com, ok.ru)
Added global options to change excerpt length within archives / single posts
Added an option within the News Widget to fade in title / excerpt / category on hover if shown over the thumbnail
Updated translation files
Updated Visual Composer to 4.6.2
V.1.1.1 – 16.07.2015
Fixed javascript error causing page animations not to work properly
Fixed video background image fallback on mobile devices
Added a disable loop option to the video background row settings
V.1.1.0 – 15.07.2015
Removed html tags from truncated excerpts within the news widget to prevent malformed html within visual composer output
Fixed issue with lazy load images after an ajax request
Fixed issue with logo bar ad section
Fixed minor issue with the comments form
Fixed issue with video backgrounds not loading on firefox / safari
Removed all comments from the minified style.css to have a smaller size
Added a new Advanced News Widget that has the same options as the VC News Widget
Added Main Menu Dropdowns Typography option
Added a new skin to the social share module
Added an option to change the sidebar width based on the 12 column grid
Updated ACF to 5.2.7
Updated Visual Composer to 4.6.1
V.1.0.9 – 29.06.2015
Fixed visual composer textbox color to inherit theme panel Text Color 1
Disable global video autoplay option if inserted within visual composer to avoid multiple videos loading at the same time
Renamed News to Posts since it is the default post type
Removed debugging alert forgotten within the code
Fixed issue with the Ads Widget not displaying the title
Fixed issue with widget zones above and below the main menu that were not displaying properly
Fixed widget header margin
Fixed issue with facebook login due to API changes
Fixed Social Share Linkedin share count
Fixed issue with Twitter not sharing the post link
Reset comments form after submit
Fixed issue with the gallery post format columns option not applying
Fixed bug with the most discussed query within the News Widget that was causing other widgets not to show
Added Sidebar / Widgets Look & Feel options (colors, padding, margins, borders)
Added Text Options to the News Widget (Title / Excerpt: Font Type, Font Size, Font Weight, Line Fake Oakleys Height)
Added option to select an image size or enter a custom size (resized & cropped on the fly) within the VC News Widget
Added option to change the Column Width / Post Count Per Column to the VC News Widget Featured Views
Added news views to the VC News Widget (Lists without thumbs, Ranking list with thumbs and 2 new featured views )
Added Post Meta Display Options to the VC News Widget (Show Below or Over featured image)
Added option to change the megamenu overlay color when active
Added option to change the logo height within the logo bar
Added option to change the logo height within the mobile top bar
Added border options to the main menu dropdown items
Added border options to the mobile top bar
Added color options to the mobile top bar / toggle when expanded
Auto resize logo bar ads from (728×90 to 420×60) based on screen size
Added option to disable the Shop Account Link from the Account dropdown menu
Added new home page visual composer predefined layout
Updated Visual Composer to 4.5.3 (Fixes XSS Vulnerability)
V.1.0.8.1 – 08.06.2015
Hide endless articles sidebar on mobile view
Fixed issue with Ubermenu not showing properly
Localized top bar date
Faster theme panel by enabling ajax saving (no more reloads on save)
Added New "After Single Post Content Widget Zone 2"
Added option to show / hide sidebars on mobile view
Added color options to thumbnail overlays & icons
Added option to change thumbnail overlay icons based on post format
Updated theme panel Redux Framework to v3.5.4.17
V.1.0.8 – 04.06.2015
Fixed Facebook share count
Fixed bug with the smart content sidebar widget zone
Fixed bug with Endless Articles template
Fixed custom css rendering on the 404 error page
Fixed intermittent issue with is_tag archive
Fixed theme panel post archives categories settings
Fixed issue with widgets getting shifted when new sidebar is created
Enhanced sticky sidebars smoothness
Moved the "after post content" widget zone before the comments section
Added template conditional assets loading to increase page speed
Wrapped all template functions with "function_exists" so they can easily be overridden within the child theme
Enhanced Main Menu / Top Bar container options
Enhanced assets loading by adding conditional tags
Restructured Theme Panel Settings
Fade in images only when they reach the viewport top
Added Ajax Pagination (Load More / Prev Next ) to the visual composer news widget with multiple animations
Added logo bar (Left / Right / Centered) with optional ad zone
Added (Self Hosted) option to Video Post Format
Added Audio Post Format (Embed / Self Hosted)
Added Link Post Format
Add nav menu to top bar
Added Top Bar option to show current date
Added Top Bar border option
Added a separate mobile top bar height / background color options
Added main menu margin / padding / border options
Added mobile menu typography option
Added option to narrow / center post content if no sidebar is set
Added a global sidebar setting for pages
Added Custom Nav Menu option to account menu
Added "My Posts" link option to account menu
Added CURL exists validation to demo import
Added Facebook Like & Google Plus to the Social Share
Added option to include Facebook likes & comments in social share count
Added the possibility to filter theme thumbnail sizes
Updated Envato Toolkit
Updated Revolution Slider to 4.6.93
Updated Visual Composer to 4.5.2
Updated Woocommerce templates
V.1.0.7 – 13.04.2015
Fixed issue with Vimeo player
Fixed font-awesome 4.3 icons
Fixed minor demo import bugs
Fixed Visual Composer output on posts page template
Fixed bug with search toggle on active push menu
Fixed warning notice on category pages
Fixed logo height on mobile small screens
Fixed comments paragraphs margin bottom css
Fixed Follow Us text in top bar if custom icon is used
Fixed Facebook share count if not available
Fixed push menu overflow on mobile
Show full post titles within post templates and archives
Enhance Theme Panel for a faster load
Added UberMenu Support
Added RTL Support
Added a separate top menu search bar
Added query options within WP News Widget
Added offset option within VC & WP News Widget
Added Random Posts query within VC & WP News Widget
Added Related Posts query within VC & WP News Widget
Added Date filter within VC & WP News Widget (last week, last month, last year and all time)
Added Custom Query / Custom Post Types to VC News Widget
Added option to change views count meta key
Added option to reset views count
Added option to turn off sticky sidebars
Added API Keys Section in the theme panel
Added Google Fonts API Key option to retrieve all fonts for VC custom heading widget
Updated Woocommerce templates
V.1.0.6 – 09.03.2015
Make the Demo Import work on IIS servers
Fixed right push menu overflow
Fixed category styling if more than one is shown
Fixed inner content background color in Full Width layout
Fixed sticky sidebar when sticky Top Bar is disabled
Remove https from social share count urls
Center search form when menu height is changed
Increased orbit slider font size
Optimized orbit slider loading
Ajaxified SASS compilation process for a faster Theme Panel
Allow multiple widgets within single posts widget zones
Added category descriptions
Added Yoast Breadcrumbs Support
Added Website Field to comments form for guests
Added autoplay option for single videos
Added more "Show / Hide" options to News Widget
Added option to show / hide page title in sticky top bar
Added option to show / hide Author Box in single posts
Added option to limit the number of categories displayed within the news widget
Updated language files
V.1.0.5 – 24.02.2015
Fixed "Cannot modify header information" error in woo commerce filters
Fixed footer layout when comments are activated on visual composer pages
Added a clear message if the theme cannot set the required memory limit
V.1.0.4 – 23.02.2015
Fixed issue with sticky top bar on close event
Fixed style url on HTTPS
Fixed author links in comments list
Fixed woocommerce reviews css
Fixed featured image width in "original" mode
Fixed WooCommerce scroll to reviews section
Fixed Customizer Error
Fixed issue with expanded mobile menu on login dialog close event.
Fixed pagination on posts template when set as homepage
Optimized SASS compilation process
Make news widget animations optional
Update migration system
Tag Cloud Widget: Limit results to 15
Make mobile topbar sticky
Added Schema Micro Data Markup
Added predefined visual composer templates
Added global option to hide breadrumbs
Added global option to hide title bar
Added color options to push menu
Added option to show / hide mega menu tags & subcategories
Added new Featured Image Type (Behind Title – Fullwidth)
Added color options to Top Bar buttons
Updated Woocommerce CSS for version 2.3.0
V.1.0.3 – 04.02.2015
Fixed issue with Default Roboto Font, not able to change size and colors
Adjusted top bar buttons margin when changing top bar height
Fixed Theme Panel Issues on Child Theme
Fixed demo importer remote xml feching by adding fallback functions
Fixed main menu / top menu default settings
Fixed issue with Twitter widget avatars / tweet date not showing
Single post sidebar: Set default options to inherit from global settings
Single post featured image: Set default options to inherit from global settings
Completely removed Woocommerce & Buddypress css if not activated
Added Menu Typography
Added color options to the top bar
Added logo option to main menu
Added Ajax post selection within the news widget
Added exclude categories within the news widget
Added option to show / hide search form from mobile menu
Added option to show / hide follow us from top-bar and mobile menu
Added option to enable / disable comments on a visual composer page
Added po / mo language files to child theme
Added "Via" option to twitter social share
Updated Visual Composer
Updated Optimum Speed Plugin to v1.0.1
V.1.0.2 – 25.01.2015
Fixed issue with sidebar on a visual composer page
Fixed page background settings
Fixed Chaeyeon Child Theme CSS
Fixed lost password redirection
Fixed Yoast SEO Sitemap error
Set Easy Foundation Shortcodes to use theme assets
Prepackaged Envato Toolkit for Automatic Theme Updates
Prepackaged Ads Manager + Visual Composer Ads widget
Reskined Sidebar
Added boxed version
V.1.0.1 – 22.01.2015
Fixed initial CSS compilation
Fixed revolution slider arrow position
Fixed parallax and video containers padding on mobile
Enhanced shop page responsiveness
Prepackaged Easy Foundation Shortcodes
Added Grid Width option
V.1.0 – 20.01.2015